Are you still in doubts to have hair transplant or not? Just look at the pictures of celebs and other people who have become more attractive and younger after hair transplant. Imagine that you can forget about hair loss, and look like you are 18 again!
Celebrities after hair transplant

Before and after hair transplant photos of Elon Musk, a co-founder and CEO at Tesla, world-renown inventor

Photos of Wayne Rooney, an English footballer, before and after hair transplantation

Hair makeover of Naomi Campbell, an English supermodel

Hair transplant of Elton John, a world-famous singer, ranked among Top 100 most influential musicians

Hair transplant results of Silvio Berlusconi, an Italian politician
Inspired? Continue reading to see the hair transplant results of real patients. We have picked Top 5 medical centers for hair transplant with "before & after" photos of people. You will see how they looked before the procedure, a photo of the head right after follicle implantation, and the final result of the makeover.
While composing the clinic ranking, we took into the price policy of the clinics and professionalism of doctors. It occurred that the most cost-effective offers are available at the medical centers located in Turkey, India, and Poland. You can book any of the listed clinics just right now and change your life forever!
Before & after photos of hair transplant in Turkey

Estetik International is a clinic of plastic surgery with over 85,000 hair transplants on its account.
Seamless FUE and organic transplant operations are performed here. During FUE, a doctor extracts grafts (a set of 1-4 hair follicles) and implants them into the hairless area. Organic hair transplant was developed by Dr. Bülent Cihantimur, the head of the clinic and one of 50 best plastic surgeons in the world. It combines FUE procedure with stem cells therapy to increase the follicles survival rate and speed up the hair restoration in the hairless zone. According to the clinic's data, the success of organic transplantation is 96%. It means that 96 out of 100 transplanted hair follicles take roots.
I had an organic FUE hair transplant last week. My experience was a very positive one, whereby I was treated in a one on one capacity. Every step of the process was explained to me in great detail and my meeting with the doctor was a very professional one. Dr. Aksoz is a thorough gentleman who loves his work.
The surgical process was very long, but my comfort seemed to be a priority, it was painless and the facilities were what you would expect from a top class clinic. All the staff made a great effort to make me feel relaxed and well informed.
John, Ireland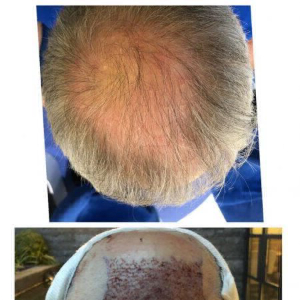 A review was provided by Bookimed patient who had hair transplant at Estetik International.
Before & after hair transplant photos. Source: Estetik International
Before and after organic hair transplant
FUE hair transplant results
Before and after photos of hair implants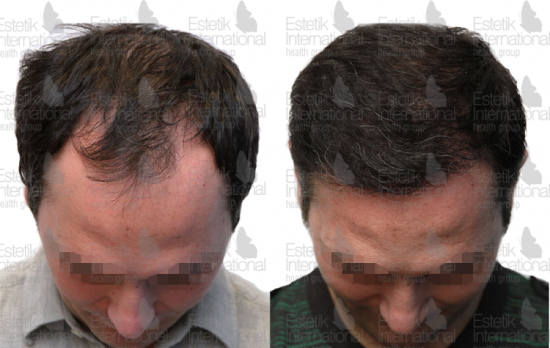 These people are beyond incompetent. I had a hair transplant - the Mickey Mouse doctor came in for 5 minutes drew a dodgy hairline and sauntered out like he was bursting for a p* Never explained anything. They never listened to my instructions, during the operation the incompetent clowns were having a party. Music was loud people were coming in and out all the while I was under strong aneasthesia unable to move. They have destroyed my donor area and the completely ruined my hairline. Please run as fast as you can from these scammers. It's more of a garage than a professional hospital. It does look nice but don't be fooled the service doesn't match the interior. Go to a qualified specialist who will make a proper plan for you. Please don't make the same mistake I have. You will see all of their patients have hard hairlines, I discovered after this isn't how it's supposed to be done at all. Please stay away.
I am not happy with the service. I'm not talking about basic things, they even forgot to give me shampoo, I myself had to look for something in Russia to wash my hair with. I'll wait and see the result, if it does not suit me, we will raise this question. Я не доволен обслуживанием. Не говорю об элементарных вещах, они мне даже шампунь забыли дать, мне самому пришлось искать в России чем мне помыть голову. Я подожду посмотрю на результат, если он меня не устроит, поднимем этот вопрос.
I liked everything, all the staff are polite, the only thing was, there were only breakfasts. It was unexpected) The room is nice, the bed is comfortable) Все понравилось, весь персонал вежливый, единственное но, были только завтраки. Это было неожиданно) Номер хороший, кровать удобная)
Everything is fine, starting with the selection of the clinic Alexander is the curator of "bookimed", then Anna is the curator of the clinic itself .... "tortured" her absolutely about everything (dumped all the documents, the photo everything that interested me was always in touch). Next, help with paying the deposit, selecting the day of the operation and my arrival. Then I was met by a transfer at the airport, brought to the clinic, Elena met ..... I filled out all the documents, passed the tests, talked with the surgeon and staff. Then rest in a beautiful hotel, a good area. The next day, a hair transplant. Everything went well! Many thanks to all, all the professionals in their field, kind, friendly and with a great sense of humor !!! One more night .... in the morning an appointment and examination with a doctor and back home to Tyumen! Everything is alright Все отлично, начиная с подбора клиники Александр куратор "bookimed", далее Анна куратор самой клиники.... «пытал» ее абсолютно обо всем (сбрасывала все документы, фото все, что меня интересовало, всегда на связи). Далее помощь с оплатой депозита, подбор дня операции и мой прилет. Далее меня встретил трансфер в аэропорту, привёз в клинику встречала Елена.....оформили все документы, сдал анализы, переговорил с хирургом и персоналом. Потом отдых в прекрасном отеле, хорошего района. На следующий день пересадка волос. Все прошло хорошо! Всем большое спасибо, все профессионалы своего дела, добрые, приветливые и с прекрасным чувством юмора!!! Ещё одна ночь....утром приём и осмотр у врача и обратно домой в Тюмень! Все просто отлично
The patient was treated of alopecia
Good afternoon, I want to tell you about my pleasant surprise about a trip to Istanbul, with the aim of hair transplants. This is not my first experience, I have already transplanted 9 years ago in Moscow. I was satisfied with the result, but when I contacted Estetic international clinic, first of all I was very surprised by the price, the price was two times lower than in Moscow. Contacting the clinic very quickly received an on-line consultation, where he voiced his wishes. After the girl contacted me, she introduced herself as my curator with the clinic. I was very pleased with the quality of the procedure, the attitude of the doctor, nurses, administrators. Everything went great and absolutely painless. The first time after transplantation, I had a very strong swelling, as I was cut. This time, the hair was transplanted without a cut, and after the procedure, the necessary drugs were prescribed, there was no swelling at all. I highly recommend this clinic. Добрый день, хочу рассказать вам о моем приятном удивлении о поездке в Стамбул, с целью трансплантаций волос. Это мой не первый опыт, я уже делал пересадку 9 лет назад в Москве. Результатом остался доволен, но когда я связался с клиникой Estetic international, то во-первых был очень удивлён ценой, цена была в два раза ниже чем в Москве. Связавшись с клиникой очень быстро получил он-Лайн консультацию, где озвучил свои пожелания. После со мной связалась девушка , она представилась моим куратором с клиникой. Я остался очень доволен качеством процедуры, отношением доктора , медсестёр, администраторов. Все прошло замечательно и абсолютно безболезненно. В первый раз после пересадки , у меня был очень сильный отек, так как мне делали разрез. В этот раз пересаживали волосы без разреза и после процедуры назначили необходимые препараты , отека не было вообще. Всем очень рекомендую данную клинику .
Estetik International is among Top 10 hair transplant clinics in Turkey according to Bookimed because of:
unique hair plantation option — organic hair transplant — invented by Dr. Bulent Cihantimur to add special stem cells injections into the head skin for the better hair replantation result.
popular with international patients — people fromNear East consider Estetik International the best hospital in Turkey for hair transplant.
vast experience — this Turkish hair transplant clinic performs 3,000 procedures annually.
Estetik International Clinic offers to perform hair transplant from $2450. The hospital ranking is 4.5 according to 58 patient reviews. The medical center is located in Istanbul, Turkey. This hospital is typically chosen by patients from Russian Federation, Ukraine and United States of America. Feel free to request Bookimed to compare the prices and costs of hair transplant in Turkey and make a shortlist of the most suitable clinics.
Location: Quasar Tower- Fulya Mahallesi, Büyükdere Cd. Quasar Tower No:76, 34394 Şişli/İstanbul
Get hair transplant at Estetik International

Smile Hair is a specialized center for hair transplant. Dr. Mehmet Erdogan and Dr. Gökay Bilgin perform the procedure. Dr. Erdogan has already conducted over 5,000 such procedures. Dr. Gökay Bilgin is a specialist in hair transplant with over 8 years of experience. He specializes in follicle transplant after injuries and burns of the head.
Smile Hair offers a package price for a seamless hair transplant, which also includes PRP-therapy to activate hair growth, 2 nights in a 4-star hotel with breakfasts, an airport-hotel-clinic-hotel-airport transfer, language assistance.
Before and after photo of hair transplant. Source: Smile Hair Clinic
Before & after images of hair transplant: photos of a procedure, the head after an operation, and a final result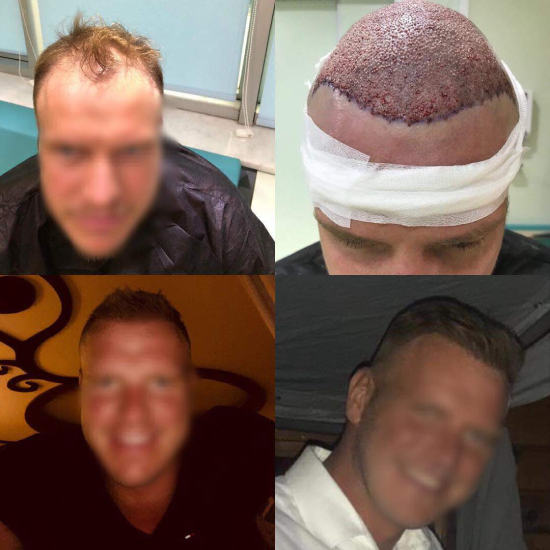 Preparation for hair transplant, a photo is just right after follicles implantation and the final result
Beard transplant before and after
A very professional service, I took great confidence in the sheer amount of clients/patients they deal with. It's a well tried and tested system and it worked perfectly for me. The surgeons are great and really know there stuff
Very nice staff, the doctor pays attention, they advise, communicate with each patient individually. They describe in detail the condition of the patient in detail and accurately, tell what they can do, what they cannot. The operation itself was pleasant, everything is fine. Transfer perfectly picked up from the airport to the hotel, then to the clinic, everything was without delay. In general, the impression is good. Очень приятный персонал, врач уделяет внимание, они консультируют, общаются с каждым пациентом индивидуально. Полностью подробно и точно описывают состояние пациента, рассказывают что могут сделать что не могут. Сама операция прошла приятно, все хорошо. Трансфер отлично забрал из аэропорта в отель, потом в клинику, все было без задержек. В общем впечатление хорошее.
Overall had a very positive experience throughout right from landing in Istanbul to my hair procedure. The clinic's services and communications was exceptional. They were very patience in clearing my doubts before arriving in Istanbul. Regarding my procedure, the doctor explained the overall procedure and answered all my queries the consultation. I found the doctor's assistance who operated on me very dedicated and comforting. The pain was minimal and everything went smoothly. Although the technicians where doing the procedure, i was expecting the doctor to check on my procedure frequently by visiting during the surgery. Overall, I'm satisfied with the service and quality of the procedure. Will give feedback on the hair growth and success after i see the results in future
I am a business Man And the way Smile Clinic looked after me So extremely professional I would like to thank every single one of the staff on the professionality they showed I am so happy with the result of my hair transplant I would certainly recommend them to anyone Thank you so much for looking after me guys Sal from Sydney Australia
В целом впечатление хорошее. Встретили, поселили в гостиницу, утром завтрак - это отличный сервис. Пересадка волос на хорошем уровне. Единственный минус, что пересадили 2000 графтов вместо обещанных 2400-3000, я немного понимаю по турецки и понял этот обман. Если бы цена была за один графт - было бы понятнее. Я летел чтобы сэкономить, но в моем случае получилось так же, как если бы я сделал в Британии.
Smile Hair is one of the best hair transplant clinics in Turkey with following benefits:
specialized hair transplant center in Turkey
experienced team — over 2,000 operations per year
micro FUE method — it's a hair transplantation of 4,000 grafts without any scars.
package price — procedure +1 PRP + accommodation + transfer. Click more for details.
accepts patients from 18 to 65 years old.
Smile Hair Clinic offers to perform hair transplant from $2150. The hospital ranking is 4.8 according to 11 patient reviews. The medical center is located in Istanbul, Turkey. This hospital is typically chosen by patients from Russian Federation, United States of America and Ukraine. The travel arrangement takes 1 days. The medical center provides a patient with free airport-clinic transfer, free clinic-airport transfer and translator. Feel free to request Bookimed to compare the prices and costs of hair transplant in Turkey and make a shortlist of the most suitable clinics.
Location: Acıbadem Mahallesi. Çeçen Sokak no:52 Üsküdar/İstanbul TURKEY
Get hair transplant at Smile Hair

Adem & Havva is a center of plastic surgery and esthetic medicine in Istanbul with over 16,000 operations on its account.
The clinic offers a package FUE hair transplant price — $1,600. Except the procedure, it covers airport pickup, PRP-therapy helping to survive implanted follicles, 3 days in a 5-star hotel.
Before & after hair transplant in men photos. Source: Instagram account of Adem & Havva Clinic
Male hair transplant before and after
Before & after hair transplant photos
Before and after photos of beard transplant
I liked everything very much, I start with communication with the friendly and professional staff of the clinic, the quality of the services received and finish the living conditions during the transplant. Special thanks to translators Dilara and Ibrahim) I recommend this clinic to everyone)) Мне все очень понравилось, начинаю с общения с дружелюбным и профессиональным персоналом клиники, качества полученных услуг и заканчиваю условий проживания во время пересадки. Особое спасибо переводчикам Диларе и Ибрагиму) Всем рекомендую данную клинику))
Hello everyone. I want to share my experience. In this matter, of course, personal attitude is very important and if you decide to change your life for the better, (and it is), be sure to trust the professionals. In this regard, I was lucky, just such people surrounded me with their care and attention throughout the entire time. The operation was done at the Adam and Havva clinic, which I am very happy because there are highly qualified specialists with rich experience. The clinic provided us with a transfer, (driver Zafer a big hello) and the hotel -Quiet and quite comfortable, p located in the old part of the city, we even managed to take a walk. Greetings and many thanks to Dilara, the curator from the clinic, as well as all the doctors from the Adem & Havva clinic, and success to you. Well and, of course, a special thanks to the girls from Bookimed, Marina and Varvara, thank you, you doing important work, helping people .... In general, as I already wrote, the main thing is to decide, and if you decide, then drop all doubts ... all health, peace and kindness, thank you for your attention. Всем привет.Хочу поделиться своим опытом.В этом деле, конечно, очень важен личный настрой и если вы решили изменить свою жизнь в лучшую сторону,(а это так и есть), обязательно доверьтесь профессионалам.В этом плане мне повезло, как раз такие люди окружали меня своей заботой и вниманием на протяжении всего времени.Операцию делали в клинике "Адам и Хавва", чему я очень рад, поскольку там трудятся высококлассные специалисты с богатейшим опытом.Клиника предоставила нам трансфер ,(водителю Заферу большой привет),и отель-тихий и вполне комфортный,расположенный в старинной части города,мы даже погулять успели.Привет и огромная благодарность Диларе,куратору из клиники,а также всем докторам из клиники Adem&Havva, успехов Вам.Ну и конечно,отдельная благодарность девчонкам из Bookimed,Марине и Варваре, спасибо Вам,вы делаете важную работу-помогаете людям....В общем, как я уже писал, главное решиться,а если решили,то отбросьте все сомнения ...всем здравия,мира и добра, благодарю за внимание.
I would like to say a lot about this clinic and staff. If you paint everything, it can take half an hour. Everything is simple - at the highest level! Starting with the guy Maxim, who offered options for clinics, and advised to stay with this friendly driver who, although he does not speak Russian, but always tries to please) the hotel reception deserves a separate review, it's very friendly, they will always meet and offer alternatives. All the people in the clinic, without exception, are very nice people, not just pretending that they care, but actually worry about each client, pay maximum attention, always stay in touch, lead and talk from A to Z. What can I say if the clinic's management was looking for us tickets for a basketball game, just because they wanted to help us) thanks to Dinara (translator) for easy and pleasant communication, I can't list all the names (I have a disgusting memory), but I can say that all people who are there deserve the deepest respect and gratitude!) Thanks to all, without exception, for you more clients. And yet, the Turks are the best) Хотелось бы много чего сказать о этой клинике и персонале. Если расписывать все, то может занять пол часа. Все просто - на высшем уровне! Начиная с парня Максима, который предложил варианты клиник, и посоветовал остановиться на этой, приветливого водителя, который хоть и не разговаривает по русски, но всегда пытается угодить) рецепшен отеля заслуживает отдельного отзыва, очень приветливые, всегда пойдут на встречу и предложат альтернативы. Все люди в клинике без исключения очень приятные люди, не просто делают вид что им не все равно, а на самом деле беспокоятся за каждого клиента, уделяют максимум внимания, остаются всегда на связи, ведут и рассказывают от а до я. Что там говорить, если руководство клиники искало нам билеты на баскетбольный матч, просто потому что хотели нам помочь) спасибо Динаре (переводчице) за легкое и приятное общение, не могу перечислить всех имён (отвратительная память у меня), но могу сказать что все люди которые там находятся заслуживают глубочайшего уважения и благодарности!) Спасибо всем без исключения, по больше вам клиентов. И ещё, турки - лучшие)
My name is Anton, I'm from Kiev. For a hair transplant, I chose the clinic Adam and Eve (Adem and Havva) and did not regret it for a second. The service is top notch. The driver met at the airport at the time, drove to the hotel and helped settle. The operation itself was also just wonderful, the whole staff is very kind and qualified, everything is thought out to the smallest detail. Special thanks to the girl Dilyara for excellent communication, help and support at all stages (before, during and after the operation), as well as to Dr. Chagatai. The emotions from the clinic are extremely positive, in general I recommend) Меня зовут Антон, я из Киева. Для пересадки волос выбрал клинику Адам и Ева (Adem and Havva) и не пожалел об этом не на секунду. Сервис на высшем уровне. Водитель встретил в аэропорту во время, отвез в отель и помог поселиться. Сама операция прошла тоже просто замечательно, весь персонал очень добрый и квалифицированный, все продумано до мелочей. Отдельное спасибо девушке Диляре за отличную коммуникацию, помощь и поддержку на всех этапах (до, во время и после операции), а так же доктору Чагатаю. Эмоции от клиники исключительно положительные, в общем рекомендую)
For those who have doubts whether or not to have a hair transplant, I'll say one thing that I myself did not dare to transplant for a long time, weighing all the pros and cons, there was also a fear of an unsuccessful result But ... when I just talked about the upcoming vatsap operation with the coordinator of the clinic Adem & Havva Dilyara, all doubts and worries about the result went away !!! I just packed up and went ... Thank you Zafer for the wonderful and timely transfer. From the first minutes of my presence in the clinic, I felt the care and anxious attention of the staff. Thanks again to your wonderful specialists for the prompt reception, clear advice and, of course, directly for the quality procedure! Special thanks to the unique specialists Dr. Chagatay, Ertan and Efsana. Dr. Chagatai is a great professional, a doctor from God. Very pleased with the level and competence. I recommend the clinic Adem and Havva to everyone! Для тех у кого есть сомнения делать или нет пересадку волос, скажу одно, что я сам долго не отваживался на пересадку взвешивая все за и против-присутствовала также боязнь о неудачном результате Но…когда я просто поговорил о предстоящей операции по ватсапу с координатор клиники Адем&Хавва Дилярой -все сомнения и переживания за результат как рукой сняло!!!Просто собрался и поехал… Спасибо Заферу за прекрасный и своевременный трансфер. С первых минут моего присутствия в клинике я ощутил заботу и трепетное внимание персонала. Спасибо еще раз Вашим замечательным специалистам за оперативный прием, четкие консультации и, конечно, непосредственно за качественную процедуру! Отдельная благодарность уникальным специалистам Доктору Чагатаю, Эртану и Эфсане. Доктор Чагатай- большой профессионал, врач от Бога. Очень доволен уровнем и компетентностью. Всем рекомендую клинику Адем и Хавва!
Adem&Havva is among the best hair transplant clinics in Turkey due to:
top hair transplant doctor in Turkey — Dr. Safiye Kurt is the 1st Turkish certified hair plantation doctor in Turkey with over 24 years of experience. Carried out a procedure for the UAE Minister of Health.
package price — procedure + accommodation + transfer. Click more for details.
top hair transplant center choice for international patients from 45 countries.
comfortable conditions of stay — in a 4-star hotel near the clinic.
Adem and Havva Medical Center offers to perform hair transplant from $1800. The hospital ranking is 4.7 according to 39 patient reviews. The medical center is located in Istanbul, Turkey. This hospital is typically chosen by patients from Russian Federation, United States of America and Ukraine. The travel arrangement takes 5 days. The medical center provides a patient with free airport-clinic transfer, free clinic-airport transfer and translator. Feel free to request Bookimed to compare the prices and costs of hair transplant in Turkey and make a shortlist of the most suitable clinics.
Location: Cumhuriyet, Cumhuriyet Mahallesi, İncirli Dede Caddesi, No:6/2 Anthill Towers, 34381 Şişli/İstanbul
Get hair transplant at Adem & Havva
Before and after hair transplant photos in Poland

Dr. Turowski Clinic specializes in hair growth restoration. It is a branch of Hair Restoration Center (Chicago, the USA), that is why the level of medical services comply with the American standards.
A manual and robotic FUE transplants are performed for patients with hair loss. The robotic procedure goes faster than a manual one. During it, less implanted hairs are damaged, and the result is more natural. It is performed ,with the ARTAS 9x device equipped with artificial intelligence. The technology analyzes a donor area, selects the best follicles, and extracts them under doctor's control. After that, a robot makes punctures on the hairless area taking into account a natural hair density and hairline growth of a patient, implants follicles.
Before & after hair transplant photos. Source: Dr. Turowski Clinic
Photos of the head after hair transplant
ARTAS hair transplant: before and after
Female hair transplant: before and after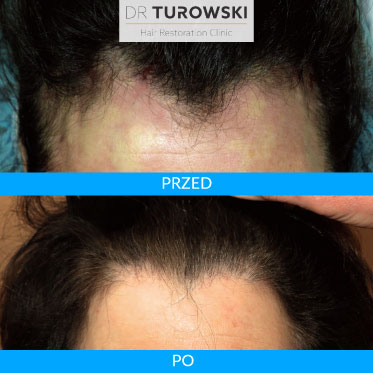 Byłem w tym tygodniu Panie niesamowicie zorganizowane Bardzo miłe i widać ze się znają na rzeczy :) Czekam tylko na efekty ale myślę że będzie super
Gregory Turowski
Mar 24, 2019
Visit our site to see our natural results
Stanisław Małecki
Jun 9, 2018
Anna Zacna Wojciechowska
Jun 18, 2019
Byliśmy w dniu dzisiejszym w klinice. Mieliśmy umówione spotkanie konsultacyjne z ponad miesięcznym wyprzedzeniem na konkretną godzinę. Dzień przed wyznaczonym spotkaniem zostało przesunięte na inną godzinę. Wyraziliśmy na to zgodę pomimo, że kolidowało to z naszymi planami ponieważ prowadzimy dość "grafikowy" tryb życia. Po pojawieniu się w klinice wizyta poraz kolejny została opóźniona. Gdy mieliśmy już zrezygnować jedna z Pań poprosiła nas jeszcze o czas. Po wejściu mojego… narzeczonego do gabinetu ja czekałam w poczekalni i cóż za zaskoczenie gdy usłyszałam komentarze Pań na recepcji. "Jaki pustak" nie świadczy tylko o braku profesjonalizmu ale też o braku kultury Pań tam pracujących. Stanowczo nie polecam tego miejsca chyba, że lubią Państwo słyszeć tego typu komentarze. Poszukamy innego miejsca gdzie traktuje się klientów z szacunkiem.
Dr. Turowski Hair restoration clinic is among the best ones in Poland. The newest hair transplant options such as FUE and FUE-Artas robotic hair plantations are applied there.
Dr. Gregory Turowski is a founder and head of this Polish hair transplant clinic. He is the best hair transplant surgeon in Poland. Dr. Turowski was among first ones in the world to apply robotic Artas hair transplant. Hair plantation with robot is more accurate and allows transplanting a higher amount of grafts for one procedure.
The doctor is included in the national "USA Top Surgeons" guide that confirms his professionalism and experience. Dr. Turowski studied at Yale and Harvard Universities, practiced in the leading American hospitals.
Over 10,000 hair transplant procedures have been performed in the clinic. So, a patient can sure of receiving the best hair transplant in Poland.
The hair transplant cost in this Polish clinic is about 10-15% lower than in the countries of Western Europe, and about 30-50% than in the USA.
Location: Żelazna 1, 40-851 Katowice, Poland
Get hair transplant in Dr. Turowski Clinic
Hair transplant result in India

Dr. VJs Cosmetic Surgery Clinic offers the best price for hair transplant among medical centers listed in this article — starting $750.
FUE and Bio-FUE hair transplants are available in the clinic. Bio-FUE combines a traditional seamless transplant and PRP-injections. It improves survival rate of transplanted hairs.
The result of hair transplant. Source: Dr. VJs
A real patients' photo before and after the procedure
Before & after hair transplant photos
FUE hair transplant results
Jennifer Channing
Mar 11, 2020
Thanks for providing the best hair transplant surgery at the best cost. Thanks Dr NSS Anusha for the best treatment. This clinic has the team of very experienced doctors.
I am very happy by getting the surgery from here as Dr Nss Anusha has helped me a lot. I am very thankful to her only because of her my hair transplant become successful
It was an amazing experience to got the hair transplant from here. Thanks DR NSS Anusha for giving me the best treatment at an affordable cost with giving any scar on the scalp. Thanks.
This clinic is the best place for hair transplant surgery. Dr. NSS Anusha is very experienced surgeon. Thanks for this treatment.
Hair transplant has given me a new confidence and i look 10 years younger by having hair transplant. very thankful to Dr Nss anusha for her support
The head of the clinic is Dr. C. Vijay Kumar with over 35 years of experience and 10,000 plastic surgeries performed. The doctor studied in the USA and Austria. It allowed implementing the latest technologies in plastic surgery.
Dr. VJs Clinic provides FUE and Bio-FUE hair transplant. The first one means that doctors apply grafts made of a patient's hair, during the second one — hypoallergenic artificial hair implants are used.
The cost of hair transplant in this Indian clinic starts from $750. This is a price for a minimal amount of grafts.
Submit a request on Bookimed, and get a personalized hair transplant cost in India.
Location: 4th Floor,Opp. Indus Hospitals K.G.H Down, Visakhapatnam - 530002, India
Get hair transplant iin VJs Clinic
Summary
According to the International Society of Hair Restoration Surgery (ISHRS), over 350,000 hair transplants are performed annually in the world. Thanks to this procedure people become more attractive and confident. Only your decision sets you apart from a new life.
Get a free consultation