The first things you remember when you hear about Turkey is probably sea, Turkish coffee, Turkish airlines, and…medical tourism! Exactly! The inbound medical tourists flow shows a rise of 38% for the last 4 years.
Read on to find out what are the top medical destinations, prices, hospitals in Turkey, and finally…main secret of popularity.
The material shows medical tourism trends and describes the leading expert-opinion-based specialties in the country. This information relies on the Bookimed statistics, patient reviews, analysis of the health tourism characteristics in 28 countries, data compiled from multiple variable sources: IMTJ, the Ministry of Health, NCBI.
The report aims to specify health care peculiarities for international patients in a particular country, patients' preferences and factors that affect their choice. It is not a call to action — use it for informational purposes only.
According to the medical tourism statistics presented by the Turkish Ministry of Healthcare, the country has achieved an increment of 520,050 foreign patients for last 4 years.
Turkey expects to host 1 mln foreigners for treatment by the end of 2019 and up to 2 million by 2023.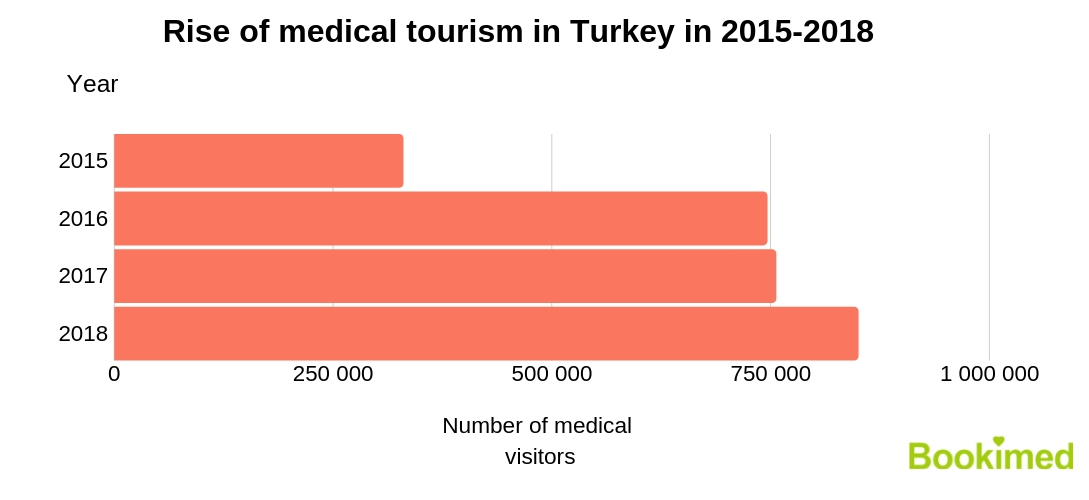 Why do patients prefer Turkey for treatment?

Cost of medical services. Turkish clinics offer competitive costs and help save up to 50% of expenses for medical tourists from the Arab states of the Persian Gulf, Britain, Germany, and other Western European countries. It is explained by the price level in Turkey which is lower compared to these countries.
Moreover, hospitals are interested in foreign visitors and offer discounts for aesthetic procedures.
Quality of healthcare in Turkey. Between 2003 and 2013, the Turkish Ministry of Health implemented the Program for Health Sector Transformation (HTP) to improve medical services provision, increase sector financing and overall workforce. Thus, a new level of medicine in Turkey followed these transformations.
Now, patients from Georgia, the CIS, and Balkan countries are looking here for medical options unavailable at home. Doctors serving medical tourists have trained abroad and applied the most innovative technologies and international developments.
Safe treatments. Over 50 Turkish medical facilities have Joint Commission International Certificate. It confirms that a hospital meets the strictest criteria of high-quality healthcare services — usually, the medical center needs 2 years to prepare for JCI evaluation.
Turkey is the only country with such a large number of accreditations obtained. To compare, Israel has only 30 hospitals with JCI accreditation, South Korea — 28, Germany — 10.
Medical tourism-oriented hospitals. The hospitals in Turkey are divided into state and private ones. While locals prefer to visit state hospitals, private medical facilities are oriented on patients from overseas. Thus, the competition between hospitals makes them employ the best doctors, renovate departments and equipment, conduct scientific research and offer full support to a medical tourist.
Tourists-friendly environment. Tourism to Turkey is on the increase — according to the local Culture and Tourism Minister Mehmet Ersoy, the number of foreigners visiting country increases by 30% per year. The revenue of the tourism field is good support for Turkish economy. And the government makes its best to improve infrastructure, service quality and attractions. Moreover, Turkey is among top 10 travel destinations in 2018 according to TripAdvisor's Travellers' Choice Award.
Medical vacation. For the last several years, people are attracted by an opportunity to combine treatments or wellness procedures with holidays. And Turkey is a perfect option for this because of coastal areas, mountains, Mediterranean climate and rich ancient culture — where anyone can tailor something to enjoy to their liking…and improve health.
Healthcare in Turkey for tourists
Patients with oncology choose Turkey as a place where they arrange treatment in shortest term up to 3 days and be sure in quality of technologies and experience of doctors.
Oncology treatment is among key specialties at university hospitals in Turkey. Oncologists provide therapies according to international treatment protocols of ESMO (European Society for Medical Oncology) and NCCN (National Comprehensive Cancer Network).
A patient can find all possible types of cancer treatment: robotic surgery, radiotherapy, brachytherapy, chemotherapies personalized according to patient's needs.
Local oncologists collaborate with American colleagues from the leading cancer institutions like Johns Hopkins Hospital and apply the latest available developments in cancer research for the treatment of patients. Hyperthermic Intraperitoneal Chemotherapy (HIPEC) is one of them.
The hospitals have equipment of the last generation — TrueBeam, GammaKnife, CyberKnife, Da Vinci Robotic System to make interventions accurate and safe for healthy organs and tissues.
Neurosurgical treatments in Turkey are demanded among foreigners due to experienced specialists and high success rates. Some of the hospitals reach up 91% success rate for the brain and spinal cord surgeries.
More than 1,200 neurosurgeons are practicing in Turkish medical centers. Local medical teams consist of a neurosurgeon, neurologist, neuroradiologist, neuroanesthesiologist, and neurooncologist if necessary. This approach to team formation guarantees a patient that the treatment program takes into account every aspect of the patient's case.
A neuroteam plans all the interventions under MRI control to increase the accuracy of future operation making it as safe as possible.
Among other innovative techniques, there is immunostaining to detect the exact location of a tumor. Patients with brain and spinal cord tumors, arteriovenous malformation, carotid artery stenosis also choose Turkey for the treatment. After the surgery, a patient can participate in a special rehab neurological program to return to regular life.
Treatment of hematology oncology diseases and bone marrow transplant are among the strongest specialties in Turkey. The hospitals closely work with leading medical research institutions including the US John Hopkins Hospital and Memorial Sloan-Kettering Center. This partnership helps to apply the results of the collaboration into the treatment process.
The hospitals have certificates from the Joint Commission International, Turkish Ministry of Health and European Society for Blood and Marrow Transplant. So a patient can be sure in the quality of treatment.
The centers accept adult and pediatric patients with aplastic anemia, leukemia, myeloma and various types of lymphomas.

You might like How much does a bone marrow transplant cost
Turkish clinics accept over 100,000 foreigners for plastic surgeries and other aesthetic procedures every year! They choose Turkish plastic surgeons due to high-quality services and affordable prices which are 2-3 times lower than in the USA or Europe.
Specialized aesthetic centers offer special packages, discounts, and an opportunity to combine beauty procedures with sightseeing or relax at sea.
The most popular procedures are hair transplant, nose job with 3D model, abdominoplasty and liposuction. According to the Turkish Ministry of Tourism, patients from Saudi Arabia, Kuwait, Qatar, the UAE, Germany, the UK, the Netherlands, Italy, Spain, and France are interested in local plastic surgery the most.
Patients, who are seeking dental treatments, decide on Turkey due to the following reasons:
they can save up to 70% for the dental implants, dental crowns, and aesthetic dentistry
local clinics provide a guarantee for the work done
the success rates of complex dental procedures reach up to 98%
local dentists use certified materials produced in the USA, Switzerland, and Germany
patients can combine dental holidays with vacations.


Top 3 hospitals for health tourism in Turkey
Anadolu Medical Center is a multi-specialty hospital opened for people from all over the world. The hospital has over 80 departments to provide you with high-quality medical services. Oncology, urology, bone marrow transplant, neurosurgery, IVF are among key specialties.
Anadolu is a partner of the Johns Hopkins Hospital — No. 3 American Adult Hospital according to the U.S. News & World Report. This strategic collaboration enables Anadolu specialists to implement all innovations and breakthroughs to the treatment process.
Patients looking for robotic surgeries with Da Vinci system, modern radiotherapy with TrueBeam Stx, precise diagnostic tests with PET/CT and much more can find it here.
Anadolu Medical Center is certified by the European Society for Medical Oncology (ESMO) and Organisation of European Cancer Institutes (OECI) for the effective treatment of cancer patients. It has also JCI and ISO certificates.
In 2018, Anadolu was the first hospital in Turkey to receive the accreditation from the Planetree recognition program for the patient-centered approach.
The patient was treated of melanoma
I went to Anadolu Clinic for a second opinion on my disease - skin melanoma. In the clinic, the examination was completed within 3 days. Very friendly and polite staff, including doctors and accompanying translators. I received answers to all my questions. I recommend this clinic for examination and treatment. Special thanks to the Bookimed staff (Pavel Popkov and Olga) for organizing and assisting with the trip to the Anadolu clinic.
The patient was treated of lymphoma
I am undergoing chemotherapy, a diagnosis of metastasis after a non-seminoma tumor. The meeting was organized clearly, the interpreter accompanied me at every stage, I liked the doctor, had conversations with him in English so that it would be easier for me to convey my thoughts correctly, the doctor speaks English at a good level, it is clear that the education was comprehensive. The diagnosis that I was given in Kazakhstan was different from the local results of the examination, I myself agree with the local. Honey sisters are always friendly, check and clarify the condition of the patient, at each stage, check all the data (pressure, pulse, temperature, weight). The rooms where Light chemistry is carried out, recliners are comfortable, there is a TV.
The patient was treated of lymphoma
Прохожу курс химиотерапии, диагноз метастазы после несеминомной опухоли. Встреча была организована четко, на каждом этапе сопровождал переводчик, врач понравился, вёл с ним общение на английском чтобы мне было проще доносить свои мысли правильно, врач владеет английском на хорошем уровне, видно, что образование было получено всестороннее. Диагноз который мне ставили в Казахстане отличался от местных результатов обследования, я сам солидарен с местным. Мед сестры всегда приветливы, проверяют и уточняют состояние пациента, на каждом этапе проверяют все данные(давление, пульс, температуру, вес). Палаты где проводится химия Светлая, кресла реклайнеры удобные, есть телевизор.
First of all, I would like to express my gratitude to the Bookimed staff for organizing the medical examination and coordination during my stay in Turkey, thanks to Olga, she was always in touch, special thanks to Maxim Voloshin. Guys, what you do is invaluable. We flew to the new Istanbul airport from Ashgabat, to the Anadolu clinic for a medical examination. met, the driver was friendly and polite, Erol. True, the clinic is far from the airport and from the center of Istanbul, we arrived in 2.5 hours + traffic jams, for which we crossed the bridge connecting Asia to Europe. The clinic is located in Gebze, the area is quiet. Stayed at the Hyyat Hotel very safe (even scanners are installed at the entrance) and a comfortable hotel. Transport Hotel-Clinic-Hotel once a day at the scheduled time. In the morning we arrived at the Anadola Clinic. They provided the distributor on the first day to Alain. Alena thank you very much. Such a clever translate accurately, was 100% concentrated on work. And on the second and third day they gave another translator, what was her name there, Sevalya or something. That's when we started having problems. She was always busy, called somewhere, missed, in short horror, to some administrative questions, instead of translating, she answered herself as "she thinks," but Suleiman (along the coordinator of translators) answered all questions correctly. The clinic is comfortable, they did not stay in line for a long time. Doctors are courteous and competent. Diagnoses are made only after a thorough analysis. Results in Turkish, translation can only give in English. The diagnosis was made, the medicine was prescribed (by the way, an interpreter named Sevalya could not translate the diagnosis into Russian). All medicines were purchased in Istanbul. In general, I was satisfied with the medical examination. I advise ...
The patient was treated of lymphoma
Now they have a new method of immunotherapy, instead of 16 hours of transfusion, they make an injection on their stomach under the skin, 15 minutes and it's done. So, 2 hours we're going back, even the ward is not needed. The treatment is going well, the doctor is very pleased with the result.
Anadolu Medical Center is a multidisciplinary facility providing American treatment standards at affordable prices in Istanbul (Turkey). Anadolu affiliates with the Johns Hopkins Hospital, one of the best medical facilities in the USA.
Oncology, oncohematology, check-up, women's health, cardiology are the leading specialties in Anadolu Hospital.
The medical center is among the Top 10 hospitals in the world according to the Medical Travel Quality Alliance (MTQUA), an international organization that promotes excellent standards of health services for medical tourists.
Patients from the United States, the United Kingdom, Romania, Bulgaria, and Azerbaijan choose Anadolu Medical Center.
Liv Hospital Ankara and Liv Hospital Istanbul (Ulus) are smart medical centers of a new generation. In 2018, Liv Group celebrated its 5th anniversary.
Over 50,000 medical tourists visit local specialists to get care in oncology, orthopedics, cardiac surgery, and hematology oncology. The hospitals offer treatments with all medical technologies available in the world.
Liv medical teams provide more than 13,200 interventions per year. And they represent some of the highest survival rates in Turkey and the globe: i.e., up to 94% for stomach cancer surgery, up to 96% for heart surgeries, up to 100% for chest operations.
Liv Robotic Surgery Center, Colorectal surgery and Bariatric surgery departments have Certificates of Excellence.
The first time I arrived at this clinic, we were met from the airport and the first day they were examined, doctors, nurses, translators are all polite ... The analyzes were ready the next day, I recommend it to everyone!
The clinic is very satisfied. High-level staff and service. Everything is very fast, clear and quality. If you need to be examined, you will definitely not regret visiting this clinic.
We were normally met, we were dealt with, we went to the doctors with us, there was a constant translator. Everything was normal, adequate. If they were waiting for something, then not for long, everything happened quickly,
Every thing was good, all arrangements for my patient condition (pediatric ) were taken prior to his arrival , medical ambulance team were at airport when airplane landed, they received the patient at airplane door , ambulance car were waiting , they transferee the patient to the hospital , directly to his room , medical profecianal team of different speciality's were waiting , started the medical work immediately , the communication is very good . It was an excellent experience, I will recommend the İstanbul liv hospital of aulus specially in pediatrics speciality .
The patient was treated of keloid scars
I did not like the fact that different prices say, first one and then the other, at the reception a displeased girl was sitting, she was very unfriendly. When we went to the doctor, she first told us the cost was higher, and when we showed that they originally sent us a different price, she agreed to it, as if there were no fixed prices at all and they were being invented on the spot. But I really liked the doctor, he was very welcoming and competent.
LIV Hospital Group consists of multi-specialized Turkish hospital with two divisions of LIV Hospital Ankara, and LIV Hospital Istanbul (Ulus). Both of them are smart hospitals of new generation with all the medical technologies available in the world: da Vinci robot-assisted system for the surgeries, MAKOplasty for knee replacement, YAG Laser for vascular surgery, virtual angiography for cardiac diagnostics, etc. In 2016, LIV hospital had the best success rate among all Turkish hospitals. Three LIV centers are entitled as the Centers of Excellence.
Estetik International's specialty is plastic surgery. A patient can get any change of the body here: abdominoplasty, breast enlargement, blepharoplasty, vaginoplasty, and others.
The clinic has a particular focus on hair transplant and rhinoplasty. Foreign patients visit the clinic to get the most popular method of FUE hair transplant or platelet-rich plasma (PRP) treatment at the early stages of hair loss. The medical team provides over 3,000 hair transplants per year!
Prof. Bulent Cihantimur found the clinic. He is ranked among Top 50 plastic surgeons in the world. He is an author of modern techniques of non-surgical Spider Web facelift and Cihantimur Fat Transfer.
ISO certifies the clinic for meeting the criteria of safe and cutting-edge medical services.
Overall good experience in need of tweaking. Will revise feedback based on final result (approx. dec 2020) What was good: -Bookimed team was very professional and ready to answer all questions -The Estetik medical team with the doctor were courteous and professional. I cannot comment on the results until after December 2020. -The concierge team was very courteous and ready to answer any questions -The planning team was really on point. Keep it up! What needs to be improved: -instructions with aftercare (right now it's by word of mouth which is sub-standard these days) -a more detailed description of the doctors success stories and his team -concierge team to have a checklist system for themselves to ensure that they do not forget anything -better hotel selection packages (divan hotel had a 4* lobby and a 2* room): ie 3,5,7,10 days
It is with abundance of satisfaction that I am writing this letter to you. I am feeling good , I look good and I am happy! Please allow me a few wordsof praise: First, Dr. Huthut. Appart from being an excellent plastic surgeon he is most of all a sensetive considerate human being. As always, the spirit of the comander prevails: The staff is fantastic, full of empathy and enthusiasm day or night. Last but not least, the facilities are on the highest level designed to put the patient fully at ease. Thank you for turning what could have been a harrowing experience (thek cut my face...) into bearable one. Hava - Israel.
I didn't like the translator, when I was expecting at the clinic she said to me with a smile on her face "they will not help you". In principle, I liked the doctor himself, he was kind, he said in fact what can be done, but I'm looking for help from a person who could find a solution to the maximum, so I will go to other clinics for further treatment.
I am not happy with the service. I'm not talking about basic things, they even forgot to give me shampoo, I myself had to look for something in Russia to wash my hair with. I'll wait and see the result, if it does not suit me, we will raise this question.
I really liked the clinic! Design, equipment and layout. 500 meters from Cevahir AVM Shopping Center. Very qualified staff. The attention to detail was shocking, there are a lot of foreign clients. Full international. Not cheap, but not at all a pity for such a service ... Special thanks to the dentists orthodontists Murad Bey and Diego Ramos! Great fellows. After the new year, we think to come to the installation of veneers ... Thanks to everyone who arranged a visit to the clinic ...
Estetik International is one of the largest centers of plastic surgery and cosmetology in Turkey. The clinic specializes in the face, body, breast surgery, and hair transplant.
Specialists apply Spider Web, a unique technology for the facelift. The technique has been invented by Prof. Bulent Cihantimur, the founder of Estetik International. The doctor is among Top 50 plastic surgeons in the world.
Over 1,000 patients improve their appearance in the center annually.
Top doctors in Turkey
Professor Zafer Gülbaş is a specialist of diagnostic and treatment of hematologic malignancies for over 30 years. He is an expert in bone marrow transplant, cellular therapy, and flow cytometry application. Professor Gülbaş heads the Hematologic Oncology and Bone Marrow Transplant Department at Anadolu Medical Center.
Dr. Ali Zırh is a world-known neurosurgeon specialized in movement disorders and deep brain stimulation (DBS). Doctor Zırh has over 25 years of experience and has performed over 650 successful DBS procedures. The doctor serves patients with Parkinson's disease, dystonia, and Tourette syndrome. His achievements are recognized by the Brain Research Foundation Award and the Turkish Neurosurgical Society Award. In 2018, Dr. Ali Zırh received DBS Guinness World Record.
Dr. Safiye Kurt is an expert in aesthetic medicine. Hair, eyebrow, beard, mustache transplants, Ozone therapy are among procedures she performs. Doctor Kurt has treated over 5,000 patients — both male and female — from Mexico, South Korea, Europe, the Middle East, and the Gulf Countries. The UAE Minister of Healthcare is one among her patients. She found Adem and Havva Medical Center oriented for international patients. The doctor is also a member of European Hair Research Society.
Medical tourism Turkey: prices
| Procedure | USA | Germany | Turkey | India |
| --- | --- | --- | --- | --- |
| Autologous bone marrow transplant | from $350,000 | from $115,000 | from $35,000 | from $30,000 |
| Deep brain stimulation | from $70,000 | from $70,000 | from $35,000 | from $16,000 |
| Da Vinci prostatectomy | from $130,000 | from $21,300 | from $18,500 | from $11,250 |
| Hair transplant | | from $3,450 | from $1,800 | from $1,200 |
The costs in the table are approximate. Contact Bookimed manager to get an exact price for the procedure of interest.
Guideline for medical travel to Turkey
Choose an appropriate medical center.
Consider the following factors:
type of a hospital — whether it is a single specialty or multispecialty center
success rates in the treatment of your condition/the outcome of procedure of interest
international recognition, certificates, accreditations
services for medical tourists
location of the hospital.
Contact Bookimed manager to get assistance and find the most appropriate center for your case.
Send medical records to Bookimed manager
Bookimed manager will inform you of best options in your case: hospital, doctor, cost estimate, and treatment travel arrangement.
When you decide what variant is more suitable, we will arrange an appointment with a specialist. With Bookimed, you can go for treatment to Turkey within 2-5 days after submitting a request on our website.
Arrange your medical stay
Bookimed care team will help you with a medical visa, transfer, and accommodation. All issues with medical travel are solved easily and comfortable.
Patients can get a visa online (find more details on Turkish medical visa requirements here). And leading local air carrier Turkish Airlines provides more than 300 destinations to the country.
Treatment and coming back home
Bookimed manager will provide you with all necessary information about your treatment process. Our team will support you 24/7 during your hospital stay and afterward, so you can focus on your recovery.
If you're seeking excellent healthcare — cancer treatment, dental care or plastic surgeries — Turkey is a wise decision. You will save money, find appropriate medical services and discover this beautiful country.