play_circle_filled
China, Guangzhou
St. Stamford Modern Cancer Hospital Guangzhou
verified_user

Direct Price Guarantee

keyboard_arrow_down

The medical center is a Bookimed Official Partner. Thus, we arrange treatment for international patients as a hospital representative with no intermediaries and extra charges.
St. Stamford Modern Cancer Hospital is a single-specialty treatment center in Guangzhou city, China.
The team applies 18 non-invasive methods (cryotherapy, NanoKnife, brachytherapy, and other), surgical interventions, and oriental medicine approaches.
The cancer center has twice passed the JCI certification by organization accrediting healthcare institutions, which confirms corresponds with more than 500 quality and safety standards for treatment.
Prices for diagnosis and treatment info
Last price update — 08.07.2019. Prices can be changed depending on the medical case and doctor's recommendations.
Treatment procedures A-Z
Chemotherapy for liver cancer
Price on request
Chemotherapy
Price on request
Cryotherapy
$4359
Radiation therapy for ovarian cancer
Price on request
Radiotherapy for prostate cancer
Price on request
Radiotherapy for lung cancer
Price on request
Radiotherapy for cervical cancer
Price on request
Show all
Diagnostic procedures A-Z
Consultation with a mammologist
Price on request
Consultation with an oncologist
Price on request
Blood test for hormonal profile
Price on request
Mammography
$65
Lymphoma blood test
Price on request
Lung biopsy
Price on request
Liver biopsy
Price on request
Show all
What patients say about the hospital
Alexander amen ang
Nov 28, 2019
Reviewed on Google
Rumah sakit kanker terbaik saat ini
George Luechai
Dec 28, 2018
Reviewed on Google
โรงบาลสำหรับโรคมะเร็งคนไทยมารักษาเยอะมีล่ามพูดไทยหลายคน
Reviewed on Google
I had the best services that a patient can get from the hospital,Dr.Lin was the best and the nurses on the ocology wing were the best.I had a gynacology problem but i believe it has been solved.100% recomend.
Reviewed on Google
My grandma past away because of this hospital...
Reviewed on Google
Pelayanan RS'nya bagus, suster dan dokter ramah banget, bersih juga. Saudara teman saya ke rs ini dan hasil pengobatannya ok juga. Pasien sekarang ada kemajuan kondisinya, recomended banget.
Mario Daniel
Jun 16, 2014
Reviewed on Google
Rumah Sakit yang cocok untuk pasien yang jauh dari rumah. Fasilitas baik. Dokternya baik juga. Susternya cantik dan baik. Cuma kasur ranjangnya keras
Hissah Turki
Mar 29, 2015
Reviewed on Google
Hello ..I'm from middle east. I would like to send my mother to this hospital because she has cancer in her brain . Is any body tried to treat in this hospital then he nurse completely ?
lamberto cargullo
Jun 21, 2016
Reviewed on Google
My wife got treated from breast cancer stage 4. We yearly come back here for general check up and this is our 2nd year visit as cancer free. Superb service.
Reviewed on Google
Hospital with american JCI accreditted
Khieav Kunthea
Oct 4, 2014
Reviewed on Google
hospital that we can trust
Clping Chanthapadith
Jan 28, 2016
Reviewed on Google
Modern medical technic for treatment severe diseases particular cancer
Ilham Maulana
Nov 17, 2017
Reviewed on Google
love the service, also recommended for Muslim patient
Alfio Aprilio
Feb 3, 2013
Reviewed on Google
Jenny ramirez blanco
Mar 21, 2020
Reviewed on Google
Hospital accreditations of quality
Doctors
View 2 more doctors
About the hospital
Date of content creation: 03.07.2019 · Last update: 23.12.2019 info
location_on
China, Guangzhou
Modern Cancer Hospital Guangzhou was founded in 2005. Today — it's one of the most extensive facilities for treating cancer serving patients from the USA, Canada, Malaysia, Indonesia, Japan, and other countries.
The hospital is located 32 km away from Guangzhou Baiyun International Airport.
Why do patients go to Modern Hospital Guangzhou for treatment?
Doctors accept even the most severe patients — at the stages 1-4. Only people who can't come through the flight because of health condition are the exception.
Innovative techniques. Guangzhou Cancer Hospital team provides treatment with the newest methods, including cryotherapy (exposing a tumor with cold temperatures), brachytherapy (contact radiotherapy), NanoKnife procedure.
Oriental medicine. If patients inquiry, oncologists combine European and Chinese treatment methods to overcome the consequences of the therapy more quickly and improving the whole condition.
Cancer therapy
Cancer management in Modern Hospital Guangzhou includes both traditional methods as surgery, chemotherapy, tumor irradiation, and unconventional as oriental healthcare techniques.
Minimally invasive techniques are the most extensively used — they aim to affect tumors without incisions. 18 of these methods are available here. Among them are:
Chemoembolization
The chemo agent is directly delivered to a tumor affecting it and sparing neighboring tissues. Doctors inject a catheter with chemo agent to the vessel which feeds cancer. This is how substances do not spread throughout the body and do not cause so many side effects as intravenous chemotherapy.
The method is effective for treating tumors in the lung, liver, breast, nasopharynx, colon, thyroid, stomach, prostate.
Cryotherapy
Oncologists destruct the tumor with temperature change. First, doctors affect the tumor with extremely low temperature (from -120 ℃ to -180 °C), and then they sharply increase it - this change causes tissue necrosis.
The method has the following advantages:
works for tumors located next to vessels that cannot be surgically removed
allows you to destroy the tumors 5 cm in diameter (equal to a tennis ball)
does not require extensive incisions and extended hospitalization;
the method is safe and suitable for elderly patients.
Doctors use cryotherapy for tumors in the breast, lung, liver, prostate, kidney, thyroid, and others.
Brachytherapy
Brachytherapy is one of the methods of tumor irradiation. Doctors inject the catheter with radioactive seeds. They are located maximally possible to the tumor, and therefore the treatment effect is much better than standard percutaneous radiotherapy. After the session, a doctor disposes of these radioactive elements.
Brachytherapy is effective for lung, esophagus, prostate, breast, and uterus cancer.
The method has such advantages:
shorter treatment in comparison with a standard radiotherapy
healthy tissues are less affected.
NanoKnife
The NanoKnife system destroys tumors with radiofrequency. Radiooncologists insert electrodes inside the tumor under ultrasound guidance with the following voltage supplying. The procedure is performed under general anesthesia.
NanoKnife is used for pancreas, liver, intestine, kidney, and lung cancer.
The advantages of the method are:
a short session — the procedure is performed 5 minutes for every 3 cm of the tumor
healthy surrounding tissues are preserved.
Traditional Chinese medicine
If a patient requests, doctors in St Stamford Modern Cancer Hospital combine European treatment with traditional Chinese therapeutic procedures. Oriental medicine in China counts over 1,000 years practicing. Doctors believe that it improves the mental and physical conditions and allow coping with depression, anxiety, insomnia, and other side effects of a fight with cancer.
Some of the Chinese medicine methods:
physiotherapy — massages and exercises
treatment of herbal infusions
acupuncture
inhalation.
Accommodation
A patient can stay together with relatives. The hospital offers 2-place standard and VIP wards.
Standard ward for 2 people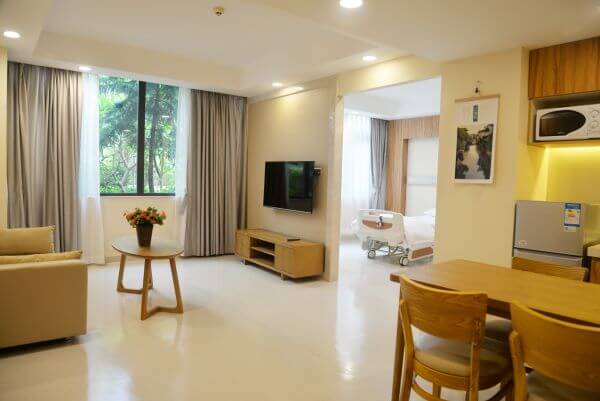 VIP ward
What specialties in the hospital are the most demanded?
Patients choose St. Stamford Modern Cancer Hospital Guangzhou most frequently for:
What treatments do patients most often ask for?
Patients choose St. Stamford Modern Cancer Hospital Guangzhou most frequently to treat the following conditions:
What procedures do patients have most often?
The most common procedures in the hospital are:
Location
NO.42 Lianquan Road,Tianhe District,Guangzhou,P.R.China
Get a free consultation
Patients are ready to recommend this hospital to their friends. The hospital makes an individual treatment program and cost estimate.
Patients are ready to recommend this hospital to their friends. The hospital makes an individual treatment program and cost estimate.
Choose a diagnosis or procedure to see the cost of treatment at the clinic
We did not find anything for your request
Try changing your request or choose an option from our list
Choose a variant from the list
SEE PRICES ON:
Diagnostic procedures A-Z
Slow connection. Wait for the end of loading to send a request.
Ask your questions to the hospital
Oops! Invalid number format. Check it once more!
We have received your request!
Our medical coordinator will contact you shortly
How it works:
We find a medical coordinator familiar with the matter
You get a personal offer with step-by-step guide and the cost estimate
We arrange your travel including appointment scheduling and flights booking
You arrive at the hospital, we support you 24/7
clinic
clinic-458
St. Stamford Modern Cancer Hospital Guangzhou
https://s3.eu-central-1.amazonaws.com/bookimed/clinic/5d1c95052f473_b.jpeg
China, Guangzhou
St. Stamford Modern Cancer Hospital Guangzhou
Countries for treatment keyboard_arrow_down