Turkey, İzmir
DentaGlobal Dental Clinic
verified_user

Direct Price Guarantee

keyboard_arrow_down

The medical center is a Bookimed Official Partner. Thus, we arrange treatment for international patients as a hospital representative with no intermediaries and extra charges.
DentaGlobal Hospital in Izmir is a dental center in Turkey. Dentists specialize in dental implants, crowns, veneers, and teeth whitening.
The clinic provides the lifetime guarantee for implants, 3 years for crowns, bridges, veneers, and 2 years for dental prostheses.
About 1,000 patients get treatment here annually — 300 of them are from European countries.
Treatment cost
The cost is individual for each treatment program. To get a cost estimate and treatment program right for you, submit a request. It's free and doesn't oblige you to have a medical trip.
Prices for diagnosis and treatment info
Last price update — 26.07.2019. Prices can be changed depending on the medical case and doctor's recommendations.
Treatment procedures A-Z
Installation of a veneer
Price on request
Dental Implant
$432 - $859
All-on-4 Dental Implants
$2615
Tooth Whitening
$94 - $166
Porcelain Veneer
$110
All-on-6 Dental Implants
Price on request
Orthognathic surgery
Price on request
Show all
Diagnostic procedures A-Z
CT of the mandible
$94
Consultation with a dentist
Price on request
Panoramic X-ray
Price on request
Doctors
View 1 more doctor
About the hospital
Date of content creation: 09.04.2019 · Last update: 22.11.2019 info
location_on
Turkey, İzmir
DentaGlobal Clinic is situated in Turkish town Izmir, 20 km from Adnan Menderes International Airport.
Advantages of DentaGlobal
Guaranteed result. Dentaglobal provides long-term guarantees for their services.
Patient-oriented clinic. Dental package includes transfer, language assistance, and accommodation. Get more details about packages from Bookimed manager.
Painless treatment. Besides local anesthesia, dentists apply sedation (light sleep) to provide comfortable treatment for patients. Sedation is used during such procedures as implantation and maxillary sinus floor augmentation (increasing the amount of dental bone).
Modern equipment. Specialists use digital 3D X-Ray for highly accurate diagnostics with less radiation exposure. Laser dentistry approved by FDA (Food and Drugs Administration) is also available at Dentaglobal Izmir — it helps to treat infections, hypersensitivity, tooth decay, and other dental diseases.
Panoramic X-ray. The clinic provides such a service to examine the patient's jaws anatomy — due to 2D images a dentist can reveal what disease a patient's got.
Dentaglobal reviews. Photos before/after are available on the page or upon request. In such a way, a potential patient can see the results of any procedure.
DentaGlobal in figures
Dental implants
To replace one or several lost teeth, doctors install particular implants (an artificial tooth root) and crowns. Such crowns are chosen individually for each patient — the form and color look naturally.
Dental implants are made of titanium. This material takes root to dental bone and does not cause allergy.
All-on-4, All-on-6 prostheses at DentaGlobal Izmir
Specialists install All-on-4 and All-on-6 prostheses on totally or partially toothless jaw.
Dental prostheses All-on-4 provide four implants (roots) inserted into the jaw, All-on-6 — six implants.
Such implants look like the patient's own teeth, do not affect facial expression and language function. If a patient follows oral hygiene rules, the prostheses can last a lifetime.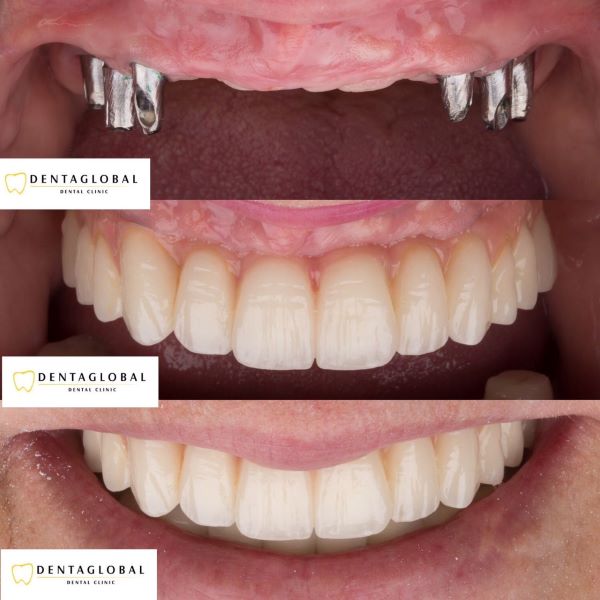 Before & after dental prostheses
Veneers and crowns at DentaGlobal
Veneers are the pieces of tooth-colored porcelain which cover the front surface of teeth. They are used for esthetic goals.
Veneers hide the defects as splits, cracks, diastema (tooth gap), yellow enamel.
They can be made of porcelain, ceramics, or composite materials. Porcelain and ceramic veneers last 5-10 years if a patient keeps the hygiene rules. Composite veneers last 2 years, but they cost cheaper than others.
A dentist chooses veneers with natural shape and color that look alike your own teeth.
A crown is a type of dental implant used for tooth replacement if it is damaged for 50-70%. Crowns are made of metal, ceramics or mixture of these both materials (metal-ceramic).
Crowns last 5-10 years if a patient keeps the teeth clean and healthy doing regular dental cleaning.
The crown implantation requires total tooth removal, so the procedure is applied only in case of urgent necessity.
Before & after veneers installation
Services for international patients
free transfer airport-clinic-airport
interpreter for consultation with a dentist
accommodation arrangement.
Additional service
French
Spanish
Turkish
English
Hotel (apartments) near the clinic, billed daily
$35 - $110
Hotel on clinic's territory, for orders over $3500
Free
Hotel on clinic's territory, billed daily
Requirements for admission
Patient's age
From 18 Up to 90 years
Documents language
The hospital is ready to study medical records in the following languages:
Payment methods
Cash
Credit cards
Bank account
What specialties in the hospital are the most demanded?
Patients choose DentaGlobal Dental Clinic most frequently for:
What procedures do patients have most often?
The most common procedures in the hospital are:
Location
2131/10 Sokak No:3A Adalet Mah. Bayraklı / İzmir
Get a free consultation
Patients are ready to recommend this hospital to their friends. The hospital makes an individual treatment program and cost estimate.
Patients are ready to recommend this hospital to their friends. The hospital makes an individual treatment program and cost estimate.
7 patients
have chosen this hospital in the last month.
Choose a diagnosis or procedure to see the cost of treatment at the clinic
We did not find anything for your request
Try changing your request or choose an option from our list
Choose a variant from the list
SEE PRICES ON:
Diagnostic procedures A-Z
Slow connection. Wait for the end of loading to send a request.
Ask your questions to the hospital
Oops! Invalid number format. Check it once more!
We have received your request!
Our medical coordinator will contact you shortly
How it works:
We find a medical coordinator familiar with the matter
You get a personal offer with step-by-step guide and the cost estimate
We arrange your travel including appointment scheduling and flights booking
You arrive at the hospital, we support you 24/7
clinic
clinic-445
DentaGlobal Dental Clinic
https://s3.eu-central-1.amazonaws.com/bookimed/clinic_webp/5cacb18d7c806.webp
Turkey, İzmir